Welcome to the Size It page. Size It is a program to resize and convert images. There are many resizing programs out there... both free and commercial... but none of the programs I could find did quite what I was looking for. So Size It was born.
Size It is free for personal and family use. If you desire to use this program for commercial purposes, such as maintaining commercial web sites, you can purchase a commercial single user license for only $10. A commercial license key can be purchased electronically via PayPal (secure and encrypted). The license key will be sent via email and can be entered into the program anytime after it is installed. So give it a try!
To download the FREE Size It program installer (with Uninstaller), click on the image below or click here.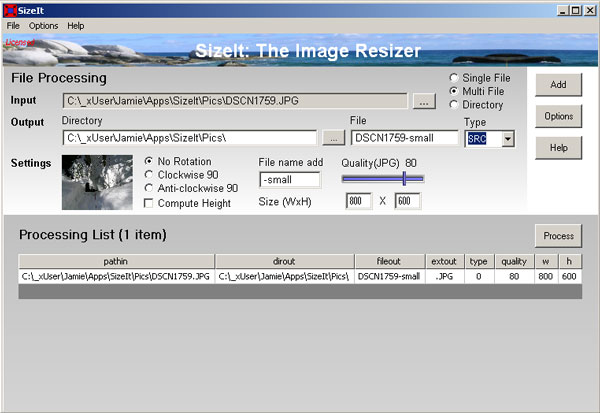 Size It has some nice features:
Convert and resize files between JPG, BMP, ICO, TGA, and PNG formats
Resize list of images retaining the original type or forcing a conversion to a new file type
Batch process single files, multiple files or complete directories
Rotate images 90 degrees clockwise or counterclockwise during conversion
Append specified text to the end of each input filename when producing the output filename
Specify different input and output directories
Specify target output image size in pixels
Specify output image quality for JPG files
Ability to save your personal options for size, type, quality, output directory
Small, simple, fast program that is simple to install and simple to use with no external dependencies or requirements for the .NET framework
Coming soon: Ability to carry EXIF information from the input file to the output file
I have tried hard to make sure this program does not contain any viruses or other problems, and I am very confident you will not have any issues. However, please use this program and any other content on this site at your own risk.